5 Best Pizza Places Near St. Louis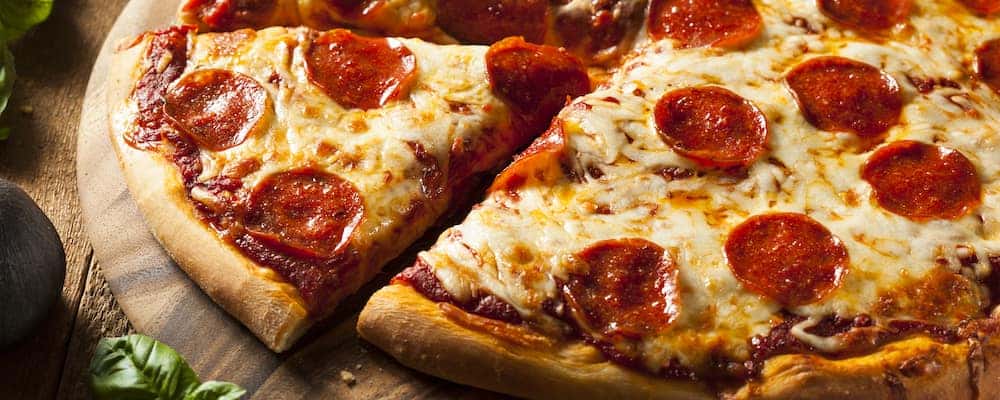 If you're in the mood for melted cheese, delicious crust, tangy sauce, and any number of toppings, you'll definitely want to check out these St. Louis pizza places. At Auffenberg Dealer Group, we love all types of pizza, from simple slices to more elaborate pies. That's why we've put together a list of our favorite St. Louis restaurants, as well as a few nearby eateries, where you can sample some of the best pizza in the area.
1. Incredible Pizza St Louis
St. Louis Incredible Pizza Company offers more than just delicious pizza. This family-friendly fun place was founded by Rick and Cheryl Barsness, and it was there vision to create a place for food, fun, and games. Dine on a "build-your-own" pizza or menu items from the more than 80 buffet options, then enjoy a game of laser tag, ride the go karts, or hit the arcade.
2. St Louis Pizza & Wings
This St. Louis restaurant serves up New York-style pizza. There a plenty of speciality pizzas on the St. Louis Pizza & Wings menu, including all meat, buffalo chicken, BBQ chicken, and veggie. There are also plenty of wing options with a variety of sauces, in addition to menu items like sandwiches, pasta, salads, and burgers.
3. Peel Pizza O'Fallon
Peel Wood Fired Pizza is an O'Fallon restaurant is known for cooking its pizzas and other menu items with a Mugnaini-built wood-burning oven. The delicious bubbly crust of the pizza and caramelized wings keep people coming back for more. Opt for a classic margherita or pepperoni pizza, or go for alternative flavors like jerk chicken, maple bourbon pork, or Grecian.
4. Gia's Pizza O'Fallon, IL
Gia's Pizza is another O'Fallon favorite. This family-owned eatery uses the finest ingredients to create pizzas like barbecue chicken, BLT, loaded baked potato, and all the meat. Pair your pie with appetizers like toasted ravioli, chicken wings, or loaded breadsticks. Not in the mood for pizza? The menu also features a selection of salads and sandwiches.
5. Dewey's Pizza
This O'Fallon restaurant has been serving up handmade pies, calzones, and salads since 1998. Choose from one of Dewey's Pizza's literary- and TV-inspired pizzas like the Green Lantern pizza, Edgar Allan Poe pizza, or Porky Fig pizza, or you can create your own from a range of sauces and toppings.
More from Auffenberg Dealer Group
Collinsville, IL may be a small city, but there are many fun and interesting things to see and do when you're there. Whether you enjoy hiking, exploring historical sites, or spending a day at the races, Collinsville has a lot to offer. To help you plan your next visit, we here at Auffenberg Dealer Group have picked…

If you're in the mood for melted cheese, delicious crust, tangy sauce, and any number of toppings, you'll definitely want to check out these St. Louis pizza places. At Auffenberg Dealer Group, we love all types of pizza, from simple slices to more elaborate pies. That's why we've put together a list of our favorite St. Louis…

St. Louis is filled with fun, and often free, activities to keep everyone entertained. Get ready for your trip to St. Louis with our list of favorite places to visit in River City. Contact Us St. Louis Zoo Looking for a free activity? The St. Louis Zoo was recently voted America's Top Free Attraction! Also…