Where Can I Find an Oil Change Near Me?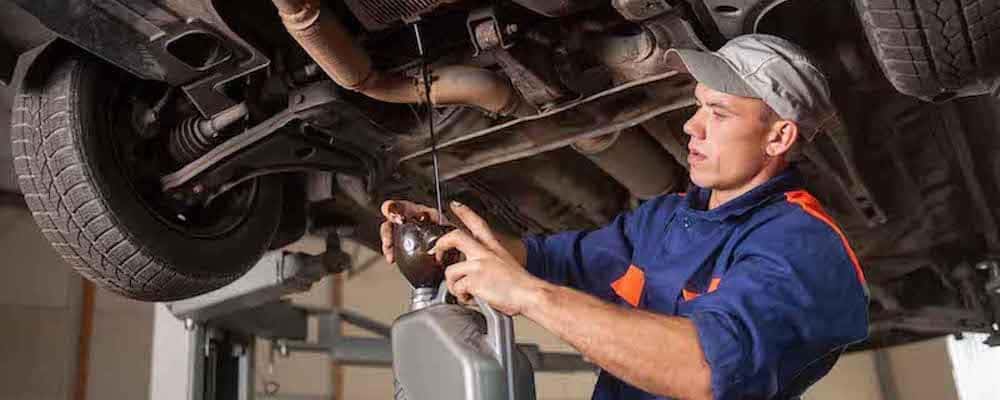 You can find an oil change at your nearby dealership — and if you're near Shiloh, that's Auffenberg Dealer Group.
Changing your vehicle's oil is one of the most important maintenance tasks you can perform, but there is some confusion about what to do and when. We'll answer a few of your basic questions here and, when you're ready to take care of your vehicle the right way, make an appointment with one of our skilled service techs.
How Often Should I Change My Oil?
While it's generally accepted that oil should be changed every 3-5,000 miles, the actual schedule depends on the make, model, and age of your vehicle. Check with our handy service schedule or your owner's manual to be sure. No matter what kind of vehicle you drive, you should get under the hood and check your oil levels regularly, roughly once a month.
How Long Should an Oil Change Take?
If you're doing the job yourself, an oil change shouldn't take more than an hour. If you bring your vehicle to a service center, it can take about half that time.
What's the Difference Between Conventional and Synthetic Oil Changes?
Conventional oil works well in most engines, so long as the correct viscosity is used and the oil is changed on time.
Synthetic oil is a man-made replacement for conventional oil and generally lasts longer, providing better protection and longer oil change intervals. Synthetic oil is a good option for high-mileage and performance vehicles.
Can I Save with Oil Change Coupons?
To help save our clients more on the services they need, we offer frequent service discounts and coupons – including money-saving offers on oil changes.
Let Auffenberg Dealer Group Help
Whether you're ready for an oil change, a new battery, or need to reset your tire pressure light, contact Auffenberg Auto Group today. It's also recommended that you get your tires rotated when you get your oil changed, so you can take care of both automotive services at one appointment!
More from Auffenberg Dealer Group
What do paddle shifters do? If you have them in your O'Fallon vehicle but don't know how to use paddle shifters, you're in for a real treat. Paddle shifters give you the ability to turn your automatic transmission into a sort of manual by shifting into a certain gear, with the paddles shifting your gears…

At Auffenberg Dealer Group, we have an extensive selection of new vehicles to choose from, providing a wide variety to Shiloh car shoppers. That means events like the 2020 Chicago Auto Show have quite a bit for us to celebrate. Here's a quick look at the big news for Chrysler, Ford, Jeep, Kia, and Volkswagen. New Inventory…

In most states, you are required to have liability insurance on your vehicle. So what is the auto liability insurance definition? What does liability insurance cover? Simply put, it provides bodily injury and property damage coverage to the other driver in the event of an accident where you are at fault. Find out what liability…