Your Car Maintenance Schedule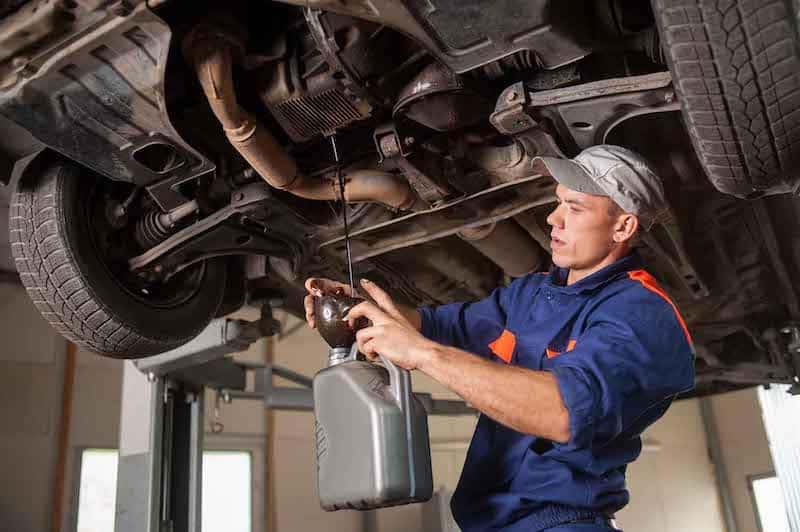 Whether you just drive your car to work and back or regularly road trip out of the Shiloh area, the best way to ensure a safe and uneventful drive is to use the right type of gas and keep up with your auto service. But do you know your car maintenance schedule? Auffenberg Dealer Group services all makes and models, from O'Fallon to East St. Louis and beyond, and we're here to give you a general maintenance schedule for your vehicle, no matter the make or model.
How Often to Change Oil
Oil helps keep your engine running all over East St. Louis, ensuring metal glides smoothly instead of grinding and causing damage. Running out of oil or running on bad oil can cause severe engine damage, and you should have your oil changed as often as your manual recommends — usually between 4,000 and 6,000 miles. Remember, it's important to check your oil levels roughly once a month, between changes.
How Long Do Car Batteries Last?
Modern car batteries don't require any regular maintenance, but they will eventually die. If you're lucky enough to not worry about any cold snaps, a car battery can last as long as 5 years. Once you hit that mark, we often recommend a new battery just so you're not caught in need of a jump start unexpectedly. It's also good to check for damage or signs of wear (like leaking or corrosion around the poles).
How Long Do Windshield Wipers Last?
There is no set mileage for most windshield wipers, but you should replace them as soon as you notice them failing. Once you turn those wipers to "on" and see that you're only clearing some of the water off of your windshield, it's time for some new ones. If your vehicle has spent the winter months in a particularly cold climate, the damage to the rubber could be significant, and we recommend inspecting windshield wipers as part of spring auto maintenance.
How Often to Change Air Filter
Engines, like people, need air to function. The modern car is designed to operate with air flowing into the engine bay, and if the filter is obstructed, it can affect vehicle performance and mpg. We recommend changing your air filter as often as you have your oil changed, just so you don't put it off for too long — so that's every 4,000 to 6,000 miles.
How Often to Rotate Tires
When you buy new tires, they have a mileage limit on them, and it can range from 40,000 miles all the way up to 80,000 miles or more. You'll only reach that mileage if you regularly rotate your tires for even wear, every 5,000 miles or so. It's wise to regularly check your tire pressure and also to inspect your tires for signs of wear and tear as well as uneven wear, as those can be indicators of bigger problems.
Has Your Car Maintenance Schedule Come Due? Let Auffenberg Dealer Group Help
If your car is in need of repair or inspection in the Shiloh area, you can do it yourself, or you can kick your feet up as the experts at Auffenberg Dealer Group handle things — maybe take a look at our new cars or shop for an affordable used car. We have a talented team of professionals who can service your vehicle in the best possible way, and we always use genuine parts to keep your vehicle running properly. We can even help you learn how to wash your car the right way or show you how to check your brake fluid! Learn more at Auffenberg Dealer Group today.
Latest News from Auffenberg Dealer Group
What do paddle shifters do? If you have them in your O'Fallon vehicle but don't know how to use paddle shifters, you're in for a real treat. Paddle shifters give you the ability to turn your automatic transmission into a sort of manual by shifting into a certain gear, with the paddles shifting your gears…

At Auffenberg Dealer Group, we have an extensive selection of new vehicles to choose from, providing a wide variety to Shiloh car shoppers. That means events like the 2020 Chicago Auto Show have quite a bit for us to celebrate. Here's a quick look at the big news for Chrysler, Ford, Jeep, Kia, and Volkswagen. New Inventory…

In most states, you are required to have liability insurance on your vehicle. So what is the auto liability insurance definition? What does liability insurance cover? Simply put, it provides bodily injury and property damage coverage to the other driver in the event of an accident where you are at fault. Find out what liability…
Save with Service and Oil Change Coupons in Shiloh
Military Discount
10% Off
As a Thank You for your service: we'd like to offer you 10% off of service and parts at any one of our dealerships.
Maximum $100 discount. Cannot be combined with any other offer. Service and parts only. Not valid for vehicle sales.
Auffenberg Dealer Group
1130 Auffenberg Avenue, Shiloh, IL
Service: (618) 624-2277
Military Discount
10% Off
As a Thank You for your service: we'd like to offer you 10% off of service and parts at any one of our dealerships.